Never let something
like your age
slow you down
Prime™ Cognitin Memory Support Formula
sku 13095
$38.75
This product qualifies for free or reduced cost shipping. Learn More
Benefits
---
Aids in improving and enhancing memory
Helps maintain healthy blood circulation within the brain (cerebral blood flow)
Helps maintain normal brain physiology
Helps minimize the effects of aging on the brain
Inhibits oxidative stress/damage to the brain
Promotes healthy levels of acetylcholine (an important neurotransmitter in the brain)
Supports normal mental activity
Supports overall cognitive performance
Product Classifications
---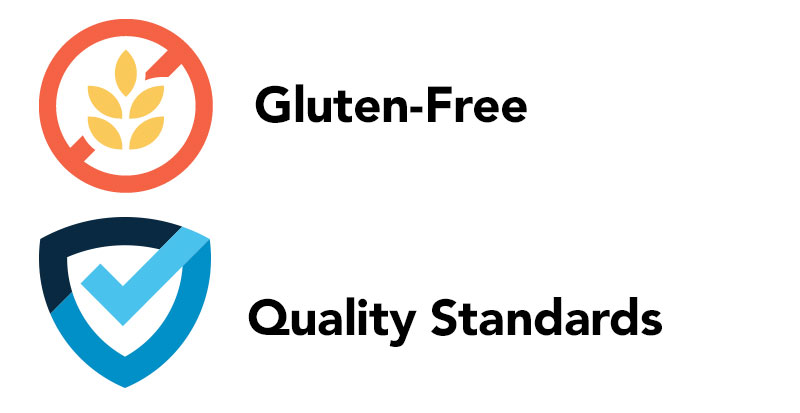 Gluten-Free - The finished product contains no detectable gluten (<10ppm gluten)
Quality Standards - GMP Operations and Standardized Ingredients
Checked For: Heavy Metals, Microbiological Contaminants, Allergens, Residual Solvents, Potency, Purity and Identity
Why Choose Prime Cognitin Memory Support Formula?
---
As we go through our busy days, we have a lot to think about and a lot that we have to remember. Unfortunately, as we age the ability to retain our memories may progressively fade. The simplest things such as names, events or tasks that we would remember a few years ago seem to completely slip our minds. Cognitin is specially designed to help maintain healthy blood circulation within the brain. Maintaining proper blood flow to the brain is important in maintaining proper brain function. Having optimal brain health will help enhance memory and mental activities. Cognitin will assist in staying focused and keep your mind from getting overwhelmed or cloudy.*
Cognitin has a select ingredient combination to enhance memory and inhibit oxidative stress to the brain. Alpha-lipoic acid has antioxidant activity that can scavenge free radicals in the brain to stop the undesirable chain-reactions they cause. Alpha-lipoic acid is both water and fat-soluble and can regenerate endogenous antioxidants, such as vitamin E, vitamin C, and glutathione, and inhibit oxidative stress. Ginkgo Biloba and acetyl l-carnitine help maintain healthy blood circulation in the brain. Cognitin is specially formulated to promote proper blood flow to the brain in order for the brain to maintain peak performance and to infuse the brain with antioxidants to inhibit free radicals activity in the brain.*
FAQs
---
Can I take this with food?
Cognitin should be taken with food to improve absorption of the active ingredients.
What other products complement Cognitin>?
Isotonix ® Maximum ORAC, Isotonix Multivitamin, Heart Health Advanced CoQ10, and Isotonix Advanced B-Complex all complement Cognitin to produce optimal memory levels.
What are signs that I need Cognitin?
If you are elderly or if you routinely have difficulty when trying to recall a simple task, name, or event.
What portion of the brain does Cognitin affect*?
The entire brain.
What mechanisms does this formulation work by*?
Aids in improving and enhancing memory
Supports normal mental activity
Inhibits oxidative stress on the brain
Helps maintain healthy blood circulation within the brain (cerebral blood flow)
Helps maintain normal brain physiology
Supports overall cognitive performance
Promotes healthy levels of acetylcholine (an important neurotransmitter in the brain)
Helps minimize the effects of aging on the brain
When should I start to see a difference?
Possibly within two weeks.
Ingredients
---
Acetyl L-Carnitine: 500 mg
Acetyl L-Carnitine (ALC) is able to travel through the blood-brain barrier where it supports the normal formation of the brain chemical acetylcholine; it promotes the efficient operation of cells by helping them stay clear of toxic fatty-acid metabolites; and it helps maintain normal brain physiology.*
Chemical messengers like neurotransmitters are vital to maintaining cognitive function yet often decline with age. Studies have shown that ALC promotes overall cognitive performance. ALC promotes normal cognitive function by helping to maintain brain energy production, phospholipid metabolism and acetyl coenzyme A levels. Acetyl coenzyme A is used by the body to re-synthesize acetylcholine.*
Alpha-lipoic acid: 100 mg
Deep within the tissue, alpha-lipoic acid is a coenzyme that, together with pyrophosphatase, promotes normal carbohydrate metabolism and production of adenosine triphosphate (ATP). Deep within the tissues of the brain, alpha-lipoic acid and the metabolite, dihydrolipoic acid (DHLA), have antioxidant components, which help to neutralize damaging free radicals.*
Alpha-lipoic acid is both water and fat-soluble and can regenerate endogenous antioxidants, such as vitamin E, vitamin C, and glutathione, and prevent oxidative stress. Alpha-lipoic acid is about 30 percent absorbed from dietary or supplemental sources, and is reduced to DHLA in many tissues.*
Ginkgo Biloba: 120 mg
The ginkgo tree has been used in Traditional Chinese Medicine for over 4,000 years. Various parts of the ginkgo tree were reportedly used in the treatment of respiratory ailments, to improve circulation, as a digestive aid, as a tonic for memory loss in the elderly and as a longevity elixir. Extracts of this powerful antioxidant herb can improve brain function by increasing cerebral blood flow and the supply of oxygen to the brain, contributing to healthy brain function. It boosts the brain's energy metabolism of glucose and heightens electrical activity. The specific extract used in this product is a 50:1 ratio and is a superior standardized botanical specially formulated to support healthy blood circulation within the brain.
Science
---
Acetyl-L-Carnitine and Alpha-Lipoic Acid: A Possible Anti-aging Combination Aug 2002, Vol. 8, No. 4: 242-245
J Am Geriatric Society. 35(5):425-430, 1987.
Bigini, P., et al. Acetyl-L-carnitine shows neuroprotective and neurotrophic activity in primary culture of rat embryo motoneurons. Neurosci Lett. 329:334, 2002
Calvani, M., et al. Action of acetyl-L-carnitine in neurodegeneration and Alzheimer's disease. Annals of the New York Academy of Sciences (USA). 663:483-486, 1993.
De Simone, R., et al. Effect of acetyl-L-carnitine on forebrain cholinergic neurons of developing rats. Int J Dev Neurosci. 9(1):39-46, 1991.
Pharmacology, Biochemistry and Behavior. 24(4):1123-1128, 1986.
Farr, S. A., et al. The antioxidants alpha-lipoic acid and N-acetylcysteine reverse memory impairment and brain oxidative stress in aged SAMP8 mice. J Neurochem. 84(5):1173-1183, 2003.
Formenti, A., et al. Effects of acetyl-L-carnitine on the survival of adult rat sensory neurons in primary cultures. Int J Dev Neurosci. 10:207-214, 1992.
Hagen, T. M., et al. Feeding acetyl-L-carnitine and lipoic acid to old rats significantly improves metabolic function while decreasing oxidative stress. Proc Natl Acad Sci USA. 99(4):1870-1875, 2002.
Liu, J., et al. Memory loss in old rats is associated with brain mitochondrial decay and RNA/DNA oxidation: partial reversal by feeding acetyl-L-carnitine and/or R-alpha -lipoic acid. Proc Natl Acad Sci USA. 99(4):2356-2361, 2002.
Liu, J., et al. Comparison of the effects of L-carnitine and acetyl-L-carnitine on carnitine levels, ambulatory activity, and oxidative stress biomarkers in the brain of old rats. Ann N Y Acad Sci 1033:117-31, 2004.
Mayeux R and Sano M. Treatment of Alzheimer's Disease. N Engl J Med 341:1670-9, 1999.
McKay Hart, A., et al. Pharmacological enhancement of peripheral nerve regeneration in the rat by systemic acetyl-L-carnitine treatment. Neurosci Lett. 334:181-185, 2002.
Miyamoto, M., et al. Antioxidants protect against glutamate-induced cytotoxicity in a neuronal cell line. J Pharmacol Exp Ther. 250:1132-1140, 1989.
Napoleone, P., et al. Age-dependent nerve cell loss in the brain of Sprague-Dawley rats: effect of long term acetyl-L-carnitine treatment. Arch Gerontol Geriatr. 10:173-185, 1990.
Packer, L., et al. Alpha-lipoic acid as a biological antioxidant. Free Rad Biol Med. 19:227-250, 1995
Passeri M., et al. Acetyl-L-carnitine in the treatment of mildly demented elderly patients. Int J Clin Pharmacol Res 10:75-9. 1990.
Postiglione, A., et al. Effect of acute administration of L-acetyl carnitine on cerebral blood flow in patients with chronic cerebral infarct. Pharmacol Res 23:241-6, 1991
Ramacci, M. T., et al. Effect of long-term treatment with acetyl-L-carnitine on structural changes of ageing rat brain. Drugs Exp Clin Res. 14(9):593-601, 1988.
Reed, K. W., et al. Acetylcarnitine and cholinergic receptors. J Pharm Sci. 69:1065-1068, 1980.
Salvioli, G. and Neri, M. L-acetylcarnitine treatment of mental decline in the elderly. Drugs Exp Clin Res 20:169-76, 1994.
Stoll, S., et al. The potent free radical scavenger alpha-lipoic acid improves memory in aged mice: putative relationship to NMDA receptor deficits. Pharm Biochem Behav. 46:799-805, 1993.
Taglialatela, G., et al. Neurite outgrowth in PC12 cells stimulated by acetyl-L-carnitine arginine amide. Neurochem Res. 20:1-9, 1995.
Valerio, C., et al. The effects of acetyl-L-carnitine on experimental models of learning and memory deficits in the old rat. Funct Neurol. 4:387-390, 1989.
Wolz, P., et al. Effect of DL-alpha-lipoic acid on the status of lipid peroxidation and protein oxidation in various brain regions of aged rats. J Nutr Biochemistry. 13:619-624, 2002.
Laws, K. R., Sweetnam, H., and Kondel, T. K. Is Ginkgo biloba a cognitive enhancer in healthy individuals? A meta-analysis. Hum.Psychopharmacol. 2012;27(6):527-533.
Wesnes, K., et al. The Cognitive, Subjective, and Physical Effects of Ginkgo biloba/Panax ginseng Combination in Healthy Volunteers with Neurasthenic Complaints. Psychopharmacology Bulletin. 33(4): 677-683, 1997.
Rigney U, Kimber S, Hindmarch I. The effects of acute doses of standardized Ginkgo biloba extract on memory and psychomotor performance in volunteers. Phytother Res 1999;13:408-15. View abstract.
Subhan Z, Hindmarch I. The psychopharmacological effects of Ginkgo biloba extract in normal healthy volunteers. Int J Clin Pharmacol Res 1984;4:89-93.
Kennedy DO, Scholey AB, Wesnes KA. The dose-dependent cognitive effects of acute administration of Ginkgo biloba to healthy young volunteers. Psychopharmacology (Berl) 2000;151:416-23.
Stough C, Clarke J, Lloyd J, Nathan PJ. Neuropsychological changes after 30-day Ginkgo biloba administration in healthy participants. Int J Neuropsychopharmacol 2001;4:131-4 .
Mix JA, Crews WD. A double-blind, placebo-controlled, randomized trial of Ginkgo biloba extract EGb 761 in a sample of cognitively intact older adults: neuropsychological findings. Hum Psychopharmacol 2002;17:267-277..
Kaschel, R. Specific memory effects of Ginkgo biloba extract EGb 761 in middle-aged healthy volunteers. Phytomedicine 11-15-2011;18(14):1202-1207.
Reviews
---
excellent product
I definitely notice my memory is stronger. I feel clearer in my mind and my learning retention is much better, as I was feeling the effects of aging. This product is an obvious requirement for me.
Response from Customer Service
02/16/2020
Dear Valued Customer,

Thank you for taking the time to leave your thoughts on the Prime™ Cognitin Memory Support Formula! We are happy to hear you are pleased with the product.

Thank you again!
The Product Information Team
I notice a difference
When I do not take Prime memory for more than 5 days, I notice that my memory is less sharp.
Can't be without it
I am 66 yrs old and as with other age related problems my memory is faulty. I have been taking this product for several years now because when I don't take it, I notice a huge difference in concentration and recall. I order every month along with my OPC-3. Highly recommend this product and it's much less expensive than the product being advertised on TV.
Great product
I bought this product for my dad who is 87 yrs old who and was having a lot of confusion and memory issues after getting pneumonia in January. Within 2 weeks he was back to his old self. He did have dimentia before the pneumonia but the symptoms were mild. He is no longer living in a fog.
Sick
And took a week but then I got sick on it. I have trouble with most vitamins and I thought this one would work. My mistake.